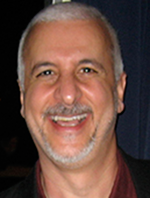 About
If you want to learn how to play the piano, I can teach you
Ages 5-95 • All Styles
Call to Schedule an Appointment
(626) 966-7760
John Maellaro
I started teaching people to play the piano while I was still in high school, and I've never stopped. Well, I did stop when I went to the University of Redlands, to earn my Bachelors' Degree in Music Composition. Then I picked right back up again after graduation.
Over the years, I've been fortunate enough to continue teaching piano while at the same time working steadily as a recording artist and music producer. This has allowed me to offer my students the unique perspective of a professional studio musician.
When I'm not teaching piano, you'll probably find me at my recording studio, downtown near the Covina Center for the Performing Arts. That's where I keep busy with my current songwriting, composing, voice over, and music production projects.
My wife Tamara and I are the proud parents of a grown daughter (who teaches elementary school) and active members of our community.
Education

University of Redlands: Bachelor of Music Composition
UCLA: Music Publishing
California State University Dominguez Hills: Electronic Music
L.A. Jazz Workshop: Big Band performing and arranging
Private Instruction in Jazz Improvisation: renowned Jazz Artist Charlie Shoemake
Los Angeles Jr. Philharmonic Orchestra: Principal Trumpet
Credits

Kids' Educational Cartoon Billy Gorilly: Creator / Writer / Producer / Pianist / Voice Actor
Universal Pictures, CNN, ABC Television: Composer
Jazz group Oddcat: Singer / Songwriter / Pianist / Producer
Latin Jazz Guitarist Anthony Arizaga: Producer / Instrumentalist
New Age Music pioneers Bearns & Dexter: Pianist / Producer
Pop band Nu Tabu: Lead Singer / Songwriter / Keyboards / Co-Producer
Alternative Pop band The SKP's: Keyboards / Vocals / Songwriter
Experience
Grey School of Music, Burt's Music Education Dept: Private Piano Lessons
TAMJAM Productions: Owner / Producer
Flying Kitten Music: Owner / Publisher
Professional Organizations
GRAMMY / NARAS: Composer / Producer / Voting Member
Broadcast Music International (BMI): Songwriter / Publisher
National Academy of Song Writers
Social Media

Facebook for Wanna Learn Piano?

WLP is a new fb site and I'm still working on it. You can help by liking it. I don't have a personal facebook account, but my cousin with the same name does.